Piano Lessons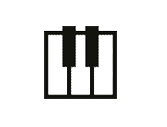 Piano and Keyboard lessons take place on a one to one basis at Jopson Music Academy in Preston. The studio is equipped with an electric piano.
All ages, abilities and styles of playing are catered for from the complete beginner to the advanced musician. No matter what you wish to learn and achieve we have the piano lessons for you.
Our experienced teachers work towards Grading through a range of different syllabus and both have large teaching and professional portfolio's.
Geoff Stout and Mike Taylor are the resident Jopson Music Academy Preston piano/keyboard tutors.