Drum Lessons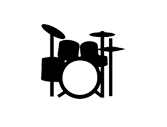 Drum lessons take place on a one to one basis in the drum teaching studio at Jopson Music Academy in Preston. The studio is fully equipped with two drum kits and full PA set up which enables students to play along with backing tracks and tunes, as well as working along with a metronome.
All ages and abilities are catered for – from the complete beginner to the gigging musician. No matter what you wish to learn and achieve we have the drum lessons for you.
Drum grades can be studied if the pupil wishes. Jopson Music Academy hosts Trinity Guildhall Rock & Pop exams a number of times a year for students.
We also run specialist workshops such as rudiment master classes, clinics and the Rock School Event which is run on a regular basis.
Adam Darwen and Chris Jopson are the resident Jopson Music Academy Preston drum tutors.