Adam Darwen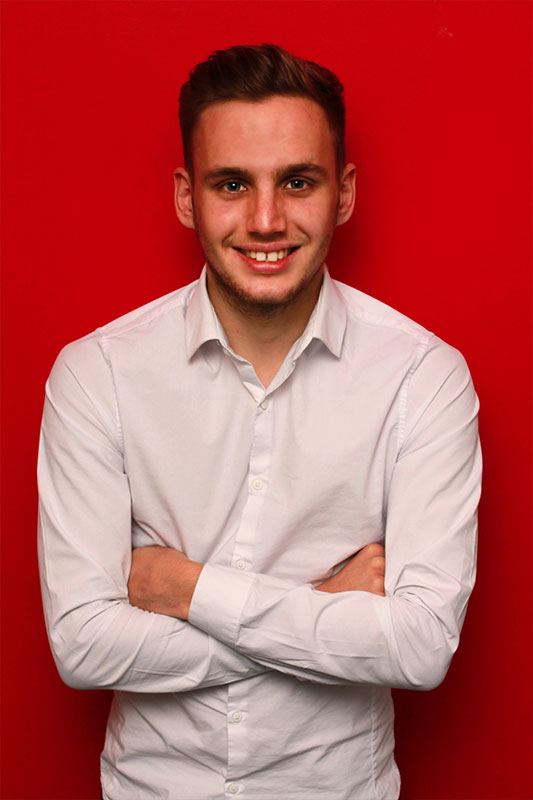 Adam Darwen's drumming career to date has had great coverage with plays and interviews on Annie Mac and Nick Grimshaw's Radio 1 show, XFM's band of the week, live performances on SKY Sports and BBC Introducing and he has performed at some of the UK's prolific venues. His bands have supported artists such as The 1975, Catfish and the Bottlemen, The Strypes, Cast, Buzzcocks, The Subways, Twisted Wheel, The Damned, Billy Bragg, Toy, James Walsh (Starsailor) and many more.
Adam began playing the drums from the age of twelve where his first experience of playing amongst other musicians occurred whilst performing in his secondary school's Jazz band and orchestra. His musical education continued onto college where he studied Music Practice and Technology, and became an Apple Certified Pro in the Audio Production software 'LOGIC'.
Adam has a great passion for performing in a group and at the age of fifteen he joined local Preston band 'The Carletons'; it was in this band Adam really came into his own as the band was signed to an independent record label in London and toured the UK due to the band's single release. When The Carletons came to an end, Adam formed the band 'Flight Of Arrows' with friends and spent six years gigging and recording with the band. Adam occasionally plays in a Funk-Jazz duo he co-created called 'Moon Thieves' who perform in bars and pubs with their latest performance at Band on the Wall, Manchester.
In March 2019, Adam became the drummer for 'Jared Lee', who is the International Elvis Masters Champion who has won awards in New York and Europe. Jared recreates the electrifying career of Elvis Presley performing in Theatres all around Europe. In November 2019, Adam joined the band 'White Flowers' as their live drummer; playing his first gig for them in store at Rough Trade Records,London. White Flowers are signed to Tough Love Records and have been described as "gloriously gothic synth pop". Their debut album is out in the near future and was co-produced by Jez Williams, Doves.
Adam has also performed at drum clinics, opening for Craig Blundell (Steven Wilson) in 2014 and Tom Meadows (Kylie Minogue) in 2020 and has had sessions with the likes of Steve White and Gregg Bissonette under his belt. Adam's passion for music and playing the drums is translated into his passion for teaching, he enjoys all aspects of teaching and the great variation that comes with it. His students have achieved grade 8 distinctions, Young Drummer of the Year shortlists and he is a valued member of the Jopson Music Academy teaching team.